GRACIOUS HOME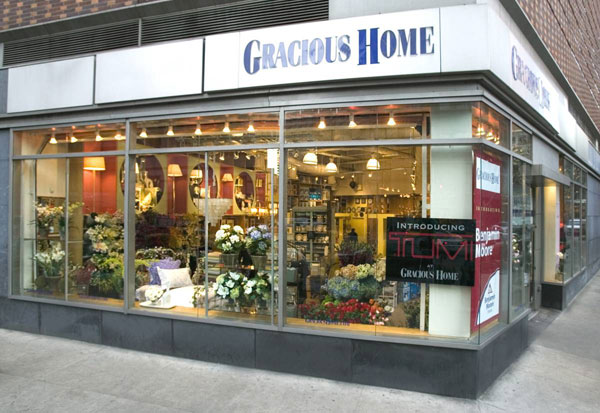 The display window was a Christmas potpourri of possibilities. The table linens department featured stacks of holiday napkin rings, tablecloths and coasters, all suggesting that a festive holiday table can only help lessen a cook's shortcomings.
Karen Lee Ballard's Home Collection was prominent, and a full corner in table linens was devoted to one of her promotions, which included four holiday dinner placemats for $41.99. Instead of selling the products, however, sales associates seemed more interested in pushing the free gift wrap. And even that was done in a rather offhand manner. "We have free gift wrapping," one sales associate pointed out. "We only have one paper design, but it's free."
4 NOON:
BERGDORF GOODMAN
OK, entering this oh-so-upscale store can be a bit nerve-wracking even for a seasoned shopper like me. So, it was with some surprise that I found my shopping experience informative and enjoyable. Once on the seventh floor, shoppers can view the splendors of luxury bedding: Anichini, Palais Royale and Bellora. The section's lone concession to holiday buyers was napkins in red ribboned boxes, priced at $21.
Compared with the indifferent treatment at Gracious Home, I felt almost coddled by the sales staff here, Expert sales help deftly fielded questions about Anichini and suggested matching the vendor's Lilium king-size blanket cover ($725) with sheets from Swiss importer Marcel Banzinger ($660 for king-size).
Display books were brought out and custom orders were discussed. I was put at ease, although I know the prices were out of my league. Still, I left there feeling that bad I spent thousands of dollars, I would definitely have gotten my money's worth.
5 1 P.M.:
FELISSIMO
Most stores today have a quiet place tucked in the back where consumers can contemplate plate a new purchase. At this 56th Street venue, it is called the Felissimo Tea Room.
Lunch in the Tea Room included a wonderful Penne Pasta with pesto, pignoli nuts and red peppers. Since Felissimo's Tarot Card reader, Beverly, doesn't work Fridays, there was only one way to find out what bedding possibilities lay ahead. I ventured past the iron doors into the store.
In the second-floor bedding section, one wall featured Paula Zinger's handmade silk sheets. Unfortunately, few, items on display were available; they would have to be ordered and shipped. I guess the sales associate took my inquiry as a tip that I wasn't one of the store's regular well-heeled customers. "Over there is the less expensive bedding," the sales associate said, pointing to items from Malabar Grove and NC Souther (queen duvet $625). Even then, she looked skeptical. Needless to say, I left the store a bit deflated.