Shredder remains essential, both to preserve your identity or comply with the law on data protection. To ensure it is effective and suited to your needs, we invite you to read our guide to the best purchasing document shredders. When shopping, remember to check three essential characteristics: the level of confidentiality, the type of media to be destroyed and the number of users supported by the device.
The privacy level
One of the first tips to buy a good paper shredder is the privacy level of the unit. This is the most important because it determines the level of confidentiality of your documents to be destroyed.
DIN international standard on shredders has 7 levels. If the most basic is DIN 1, the highest performance is level DIN 7. Pay attention to this information when buying. The privacy level then will depend on the type of cut proposed by the unit: particles or strips. The size of the cutting also account.
Be sure to opt for a less destructive level 3 documents for the destruction of highly confidential records such as sales data or documents relating to the management of human resources. If you need a device that provides an even higher level of security, choose a destructive level documents 3 or 4 which proposes a particle cut or cross cut.
The type of paper to destroy
In the case of a shredder, you should make sure that the device is suitable for the type of paper to be destroyed.
A paper shredder will suffice to destroy identification documents or credit cards. However, orient yourself a shredder that integrates different cutting blocks to ensure the destruction of more solid materials such as CDs or DVDs.
Consider choosing a shredder that is even more powerful to destroy material containing highly confidential records, such as old hard drives …
The number of users supported by the shredder
Before choosing where to buy a new shredder, you must be interested in another important criterion: the number of users supported by the device. This article will give you an overview of the destructive capacity.
Be sure to determine in advance the frequency of use for the device: you plan to use it occasionally for storage at home or in your daily business?
To give you an overview, a destroyer with a capacity of 100 L will be ideal for business used by 10 people or more in administrative services. If your company has 8 or fewer, a shredder of 30 L to 100 L or less will suffice. For individual use, against, you can choose a shredder from 18-25 L.
Buying a shredder is an important investment, whether for home or office use. How to choose the best shredder? For this, consider the following products
Fellowes Powershred P-35C Cross-Cut Personal Shredder with Safety Lock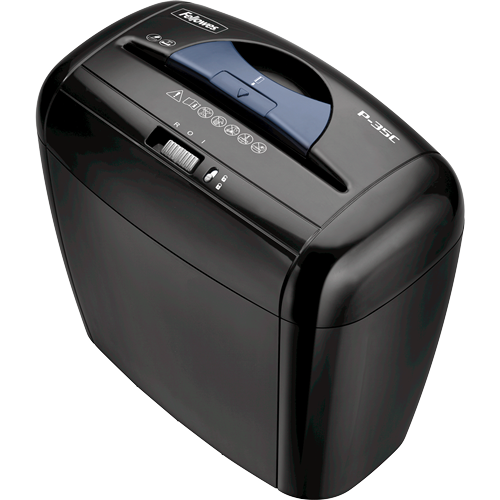 Fellowes 35C guarantees optimal destruction of your documents so that they do not fall under the hand of evildoers. This is the best shredder cross-cut which promises a total destruction of the paper. This product offers you the opportunity to destroy up to 5 pages per time. With a security level DIN P-3, it destroys the sheet particles of 3.9 x 50 mm, therefore, it is very difficult to assemble and to decipher.
This device has a 3 to 5 minutes operating cycle, allowing you to use it when necessary, moderately. Unlike the "continuous" operating cycle, you do not need to wait several minutes to cool the overheated machine before reuse. In addition, the shredder produces a sound of 70 dB thus guarantee an almost non-existent noise pollution.
For fast grinding your documents, this shredder enjoys a destruction rate of 3.6 m / min. It has a patented manual lock that protects you from possible accidents. It consists of a large basket of 12 liters which is easy to empty. It is perfect for individual use in the office or at home.
Pros:
A pleasant device to use: This document shredder is very nice to look at and it is the same for its use.
Can destroy 5 pages at once: With a destructive capacity, you can save time with it.
A 3 to 5 minutes working cycle: With this operating cycle, you can use the device whenever you need it.
A collection bin for convenient waste: The basket has a capacity of 12 liters and more, it is handy to empty and replace.
The cons:
This device may be blocked if you do clutter: more than 5 sheets, this machine may have difficulty, which is quite normal since it was created to shred up to 5 sheets.
Rexel Auto+ 60X Cross Cut
Are you finding a device that suit your office? You can opt for Rexel Auto+ 60X. This modern shredder is provided with the Auto Feed Technology that saves you valuable time. It is no longer necessary to wait beside your machine to grind your unnecessary documents. This machine can automatically shred 60-80 pages per pass. It allows you to manually destroy up to 5 pages, all in one operation.
This shredder is especially appreciated for its ease of use. Simply insert the documents and close the cover to turn the machine on. For optimal security of your data and information, this shredder gives you a cross-section DIN P-3 of your sheets. As a result, the particles of 4 x 45 mm will fall into the removable basket 15 liter (or up to about 100 sheets). Also easy to empty, this basket is associated with a viewing window of the filling level. This will make your guarantee of seeing the filling capacity of the basket firsthand when you destroy your documents.
This shredder offers can help you shred credit cards to protect your confidential data. Quiet and secure, it produces only 60 dB of sound. It is no need to fear of neither staples or small paper clips also.
Pros:
Auto-Feed Technology: With this technology, you can leave this device work alone, without having to monitor it, which is a good time saver.
A good grinding capacity: This machine was created to grind from 60 to 80 leaves at the same time.
Destructive powerful document but bit noisy: Since it can shred up to 80 sheets at the same time, we can say that it is so powerful and the good news is that it is still silent.
The cons:
This device does not destroy the CD and heavy paper: Some users recounts the fact that this device can not shred CDs and heavy paper.
Jago AKVN01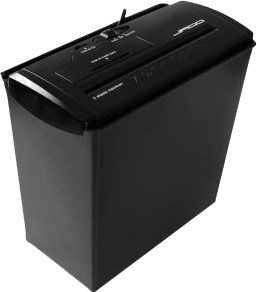 Jago AKVN01 is definitely the best cheap destroyer on the market. With this shredder, you can demolish your different paper effectively. You can pass in the destructor 5 A4 sheets in one operation. You can use this shredder to destroy your CDs, DVDs or credit cards.
This shredder remains an indispensable tool, either for home use or for individual use in the office. Otherwise, it is deemed a reliable device which includes three input modes: "Automatic", "Off" and "reverse". To assist you in the assembly of various elements of the device, it comes with installation instructions in French, German and English.
This shredder finally proposes a P-2 DIN security level to protect you against theft problems and risks of information theft. It offers an input speed of 2.2 m per minute. It is linked to a basket of 10 liters, you can easily empty and disassemble as well. Otherwise, it is a device that is equipped with a protection against overheating and another cleaning function to sanitize the cutting tool.
Pros:
Can destroy 5 A4 sheets at once: So you can save time with this machine. It can also destroy CDs and credit cards.
Some interesting features: This machine has a function "Automatic", a function "Running Back" along with a total stop button, this to enable you to manage the device better.
The cons:
Slow Device: While this machine is equipped with interesting and useful features, some users have noticed that it is quite slow; which is not convenient if you're in a hurry.