In addition to the sewing machine, there are other machines for sewing and tailoring such as overlock machine, serger machine or knitting machine. Of those, embroidery machine is ideal in addition to the sewing machine.
The embroidery machine is the perfect addition to the sewing machine
The best embroidery machine allows you to customize your work.
Whether for pleasure or expand a business, it is ideally fast and offers outstanding reproduction quality.
The embroidery machine allows for embroidery as perfect as those made by sewing professionals.
Types of machine embroidery: mechanical, electronic
You can find various kinds of embroidery machines on the market:
The sewing machine and embroidery are also called both as a sewing machine embroidery,
The embroidery machine only,
Mechanical embroidery machine, electronic or computerized.
Mechanical embroidery machine: Heavy
Embroidery machines were the first mechanical machines on the market. Originally, we had to turn a rotary dial to work! They have since improved but still are technically limited, in particular as regards to the number of points, which is restricted. However, they remain as the most robust machines.
You should know that a few brands still produce mechanical embroidery machines.
Electronic embroidery machine: simple to use, but expensive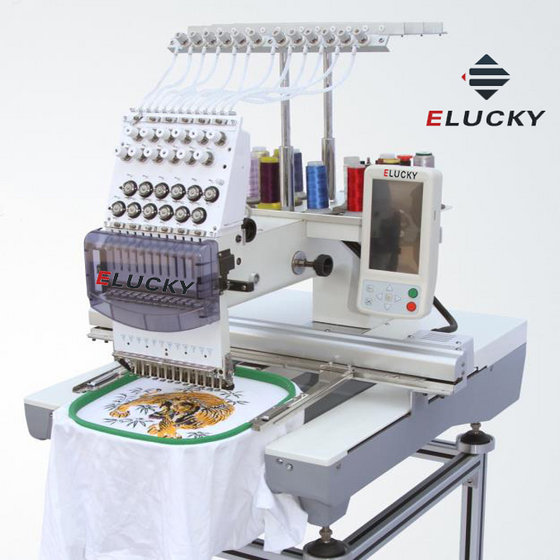 Electronic embroidery machines are simpler to use. This explains why they are more often chosen despite a higher cost. Ease of use is associated with a less constrained creativity: many points and models are available, which enable a finished embroidery.
The computerized embroidery machine: the most advanced and expensive
Computerized embroidery machines are the most expensive to buy, but it can quickly and easily create sophisticated embroidery which is impossible with other machines. Computerized embroidery machines are equipped with a microprocessor: the machine reads the model information that you send using the card and only works for its realization.
Advantages and disadvantages depending on the type of machine
What embroidery machine choose for simple operation? For an affordable price? Or for many features?
Here is a summary of the advantages and disadvantages of different types of embroidery machine:
Mechanical embroidery machine
Advantage:
Simple and solid mechanics.
Disadvantage:
Job limited because many small points.
Heavy and bulky machine.
2. Machine electronic embroider
Advantage:
Easy to use.
Many points and proposed models.
Lightweight and compact machine.
Disadvantage:
Fragile machine
3. Computerized embroidery machine
Advantage:
Many possible points.
Creating complicated models.
Disadvantage:
High price.
Embroidery machine: optional accessories
The embroidery machine can be equipped with optional accessories to enhance and facilitate the work:
Embroidery frames: allow embroider delicate or awkward items and come in different styles:
– wide cap frame: allows any type of embroidery cap,
– cylindrical framework for piece cylindrical fabric: sleeve, trouser leg, etc.
– lined frame: for embroidering patterns continuously,
– Quilting frame: available in 200 x 200 mm.
– Jumbo frame: for very large embroidery patterns,
– round frame: available in different sizes (100 mm, 130 mm, 160 mm).
software: Many software programs are available to enhance and enrich your embroidery.
How to choose an embroidery machine?
Choosing your embroidery machine depend mainly on the type of work you want to achieve, your seamstress skills, and the budget you want to spend.
Check why the number of possible stitches or optional features that seem essential.
Some examples of embroidery machine currently on the market:
1.Touch screen. USB port. 135 built-in designs ($1059)
2. Color screen. High Technology ($3000-$4000)
3.Touch screen ($1000 – $2000)
4. Lit LCD touch screen. Free arm. USB ($1000- $2000)
5. USB port. 135 built-in designs ($1000-$2 000)
– Professional
– USB port
– Backlit touch screen
– Write pattern combined
– Adjustable thread tension
– 650 points / minute
Embroidery machine: Precautions of Use
The embroidery machine must be connected to a power source of domestic sector.
There are some advises that you should pay attention :
Avoid using an extension cord or a multiple adapter, it may damage the operation of your embroidery machine,
do not place the power cord near a heat source (radiator, fireplace, etc.)
before connecting the power cord plug into an electrical outlet, make sure the cord is not cut or damaged, or twisted.
Important: Unplug your embroidery machine before performing maintenance or if you do not intend to use it more for a while. If you are away just a few moments, you can stop your sewing machine by setting the on / off switch on the off position.
Above are some overall information of an embroidery machine. Hope you choose the most suitable one for your working.