Selecting a tent is one of the most important steps for any camper. It depends mostly on your safety and comfort, as they are not inexpensive items to meditate good choice. If you still have doubts, perhaps we can help you with this comprehensive guide of suggestions and recommendations.
The proper choice of tents for sale is one of the issues that has prompted queries always www.acampante.com forum. What brand to buy, for how many, if igloo or Canadian, or many more questions, we try to answer in this note, gathering advice, technical analysis and -above all- lot of experience.
Ask your friend to recommend a tent is like asking you to recommend a car. There are fans of Ford and Chevrolet of coupes and 4 x 4. What we present below are some tips that apply to all tents, but as for brands and models should each buyer according to your budget, the activity to develop and even his taste for colors.
A tent is not an expense but an investment. Buy some low quality to save some money does not make sense. The tent is usually our main shelter in nature. So if it is good, it provides real and psychological security and one she trusts and investment pays because we accompany you for many years.
The brands provide greater confidence for his career, materials, and quality control, but this does not mean they are free of faults. Also, do not believe everything marketers say. Ask and consult with other campers used to remove his doubts and make the best investment.
Ten things to consider to choose
Meditate well on the frequent use will be given. Four things are essential in this regard: the most common site of use (if it's a campsite with all services or wilderness areas without other protection from the weather); the most common use (cold, wet, windy, sunny, etc.) climate; transport (if loaded into the backpack or trunk of a car, for example) and what the average number of occupants.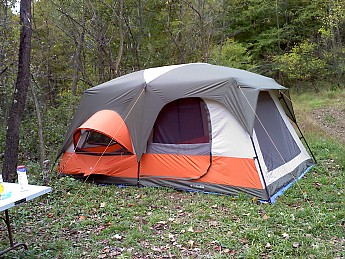 That about space. If possible, it is for one or two people more than originally going to use that. Manufacturers are always calculated very fair measures, and more space is safe to store equipment, etc.
These tents retain heat better and more protection from the rain. The color of the rainfly is not a minor detail: if it is evident, absorbs less solar radiation and therefore less heat inside, but let much light. If dark absorbs more, but if planted in the shade will be cooler and not so bright
If possible, have leaves or apse. Currently, almost all igloos have it, and is very useful for storing the equipment, cooking, wet clothes changed without entering the passenger compartment, etc. If the apse floor or wing has, the better. If you can not do very easily.
The more parents are better. A tent stability and wind resistance give studs because they are resistant structure. The duralumin is better than fiberglass, but only come in high-end tents, known as "expedition."
As with studs, the more "winds" have, the greater its stability. They should always be placed all and, if necessary, you can even add some more (e.g., winds out two rather than one grips).
The thicknesses of fabric are critical, especially the floor as it is the area most exposed to damage by trampling, stones, branches, etc. It is also important that the fabric carrier is breathable or having cross-ventilation to prevent condensation. In igloo tents, there are three types of materials: the typical nylon, the aluminized nylon and ripstop (or ripstop). The latter is the better for being lighter than aluminized, does not wear. It allows a much greater passage of light and the armed, disarmed and wrinkled team does not suffer brands.
Today all the tents supported at least a water column of 1000 mm because that is what resists the fabric manufactured. But the leaks are never the fabric but at the seams. So you have to see that seams are waterproofed, in which a small rubber film between the seams note. If filtered water, it can be repaired quickly rubbing a candle, then "paint" with a waterproofing liquid purchased in the retail shoe store.
The coupling system is more resistant studs if they skewers that are inserted inside those, and if they are plastic tubes where the ends of the studs are fit.
You always have to see how is the armed model, instead of only the pictures on the box. The rainfly has to be well stretched, without wrinkles or deformations. If you fit the above the studs (there are other models in which first raises the rainfly and hangs inside the passenger compartment) must see the seams mimic the shape of the studs and not left twisty. For more information, visit http://www.familytentcenter.com/