Especially with a larger renovation, the chances are that you have to hire a contractor. But where do you start with search? And what business do you have to consider even more to find the right contractor for your renovation? Below are the necessary tips and considerations to help you.
Where do you find a contractor?
There are thousands of contractors ranging from big companies with lots of staff to one-person businesses. A larger company may have the advantage that they have more experience but in a smaller company it is possible more personal touch.
You can find contractors on the internet or opt for a local contractor. Almost every village has one or more contractors. Hiring a contractor from the neighborhood has the advantage that it is easier to retrieve reliable references and experiences of previous customers. In addition, a local contractor will be familiar with the rules applicable in the local authority.
What does a contractor do?
Before you search for a contrator, let's begin with which activities a contractor must complete.
Offers
If you have a number (at least three) candidate of contractors for your job, you can have a quotation. This is a quote that indicates the contractor for which he might be able to perform the work.
This estimate, of course, plays an important role in your decision. Remember that cheap can be much more expensive. If the price shows that one of the candidate contractors is below the price of the other candidates, you may ask whether the contractor has done a realistic estimate. In his quotation, does he use cheaper materials of poor quality? It is therefore important to adjust this and you can not overestimate the cheapest. Also ask the contractor whenever the job could start and take it with you in your choice.
Make sure that the contractor will perform the work for an agreed fixed amount. There are contractors who prefer to be paid by the hour but you should not agree! The risk is that you may unexpectedly face a much higher bill.
References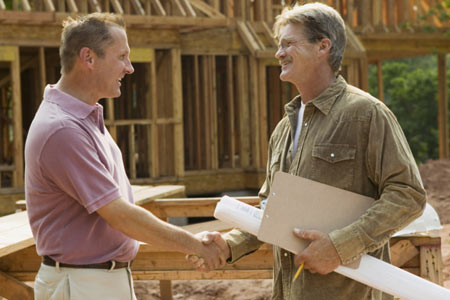 When determining your final choice, it is wise to pre-determine which jobs the contractor (recently) have done. Contact to people for whom he has worked before, because they can provide you valuable information. Ask about their experiences with the contractor and ask if you can come by once to check the completed work. Ask in advance a list of all the issues that you want to ask these people. For example:
Delivering on promises
Quality of work performed
The handling of finances
Any follow-up by subsequent defects
What are they looking back on the conversion as positive and a negative experience?
Start construction work
If you have made the decision to start construction. Speak out clearly with the contractor when the work will start and all the questions need to be settled in advance. Think of any demolition or any permits.
Building permits and community supervision
You need a building permit particularly in the larger renovations chances. There are also contractors who can help you complete the license application.
During construction, the contractor is obliged to inform the Building Control of the municipality in certain activities. They can thus control the construction or the work in accordance with the license issued and regulations. Discuss this in advance and keep an eye on whether the contractor does it consistently. Think of things like;
Control in setting the structure
Supervision at the start of any pile-driving
Checking of the reinforcement before the concrete is poured
Final inspection
Contract variations
During construction, it frequently involves the addition of extra work or just lose work. Make clear agreements on this subject and make sure you will be informed in advance. Unexpected additional work costs can quickly add up and make for a nasty surprise in the final settlement.
Building Meetings
You should have regular contact with your contractor. It is quite normal to invest weekly meeting that help you be aware of the progress of the building. Make a list in advance of points you want to discuss in this meeting. Ask for what has happened over the past week and special functions and also discuss what is the planning state next week.
Supervisor
If you do not have enough engineering knowledge, it is definitely wise to approach someone who can help you thereby. Such a person is called a supervisor. This is someone who controls the work of the contractor. There are supervisors that you can hire for a few hours a week to oversee your renovation. But perhaps you have someone with an architectural background in your family, friends or acquaintances who can arrange this for you?