The fight against noise inside the house is relatively complex. The noise through the walls, creeps by leaks, resonates in the walls … must be often combined with the devices to make tame. The best is to intervene at the source, by limiting the noise by absorbing with carpets, curtains and adapted furnishings. Here are 10 good ideas to isolate the noise.
1. Add a fake ceiling to reduce noise from above
Slamming heels, kids running and jumping … The impact of noise from above are among the most stressful. The sound passes through the ceiling but also spreads into the walls. The installation of a fake ceiling significantly improves the situation, provided that they can withstand without flinching a loss of height of about 13 cm!
Install a metal frame, a fibrous insulation and special sound proof pasteboard. You will get a much better result if your ceiling is detached from the ceiling or by the use of anti-vibration lines or using a frame-reaching, raised wall to wall.
This system controls the direct transmission problem and reduce about 25 decibel.
2. Insulate the walls to block sound transmission
To reduce the existing and block direct transmission walls, you have a choice of several techniques.the first is painting. It underlays for a reduction of 3 dB to 15 dB according to the frequencies. You can also opt for thin phonic plates (50 mm). The acoustic gain is about 15 dB. These two solutions are suitable for interior walls.
To further reduce noise, on a wall adjoining, for example, opt for a double metal framework. You will also install two drywall around a mineral wool. The final thickness will be about 70 mm and the acoustic gain of the order is 20 dB.
You can also add an insulator on a bulkhead, brick or plaster blocks. To not transmit the noise, the bulkhead must be disengaged against the existing wall.
3. Replace the windows to block the outside noise
New and efficient windows are your best defense against outside noise, traffic and human activities. To choose your new window, be aware that the soundproofing is better if the two panes that make up a double glazing are of different thicknesses because it is the difference of the two masses that isolates noise.
The result is further improved with a VIR (reinforced insulation glazing) of which one of the two glasses is laminated.
Finally, if you hesitate between two window types, look at their ranking AC (Acotherm). It indicates the window's ability to reduce outside noise: AC1 to AC4 (for higher performance). With AC3 rated window, road noise will be reduced by 36 decibel (dB). This is significant.
4. Improve the sealing of old windows
If you can not change your windows, you have to improve their air-tightness to prevent noise from passing by changing the seals. You can find several models in stores. The rubber seals are very effective and easy to apply, they are adhesive strips. The silicone is present in a cartridge and applied by spray gun. The pose is slightly more complicated, you may need an online tutorial if needed. Joints arise on the frame of the window. They are practical, effective but not necessarily and very aesthetic. Also, at the window sill, put them instead in the opening (under the water jet), they will be more discreet.
5. Install acoustic vents that allow air but not the noise
One of the principles of noise abatement is to make everything tight: windows, doors, shutters coffers. If the air does not pass, the noise does not pass. However, it is vital to maintain good ventilation housing, which ensures the renewal of indoor air. The good compromise exists with acoustic vents. For the VMC, individual pullers, roller shutter boxes or even laying on masonry, choose acoustic air inlets or equipped with acoustic silencer. You will have fresh air, no noise.
6. Caulk the gateway to no longer hear the sounds
You hear everything that happens on the landing or on the stairs. Your landing door is insufficiently insulated. If you can, replace it with a reinforced door (more is heavy, the better it insulates!). The anti-noise curtain is a first solution, it is composed of several heavy layers of fabric and reduces pollution of about 20 decibel. Nothing prevents you to make it yourself. Make sure it covered well.
Then, install the seals around the door and a door bottom seal brushes. You must have the least possible space. You can also pad your door. There are ready-to-install kits upholstery. If you are a tinker, design your own upholstery using, for example, cork boards.
7. Equip curtains, wall paintings and furniture to prevent resonance and reverberation
Recent houses frequently experience problems of reverberation (echo effect) and resonance. Invite friends to dinner and noise quickly becomes unbearable as every word resonates. If the floor is tiled, it's even worse. Several simple solutions help curb the phenomenon, by installing, for example:
Rugs

Double thick curtains on the windows

The stretched fabric on the wall, placed on a layer of fleece

A canvas to paint noise or sound insulation, plates or coils under your wall covering.
The furniture also have a significant impact on noise. A large open library with shelves of different sizes and various objects calm sound propagation.
8. A carpet underlaid to absorb sound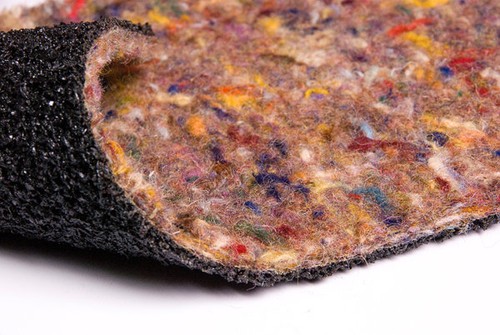 To reduce noise propagation through soil, install a carpet . A large mat reduces sound transmission by about 10 decibel, and 20 dB fora thick carpet. Also resilient should be underlaid under floating floors. Avoid asking your hi-fi speakers directly on the floor, use preferably supports or small furniture you have equipped the rubber pads of the feet.
9. Choose silent equipment
When buying fridge, washing machine or vacuum cleaner, check the sound level indicated in decibel (dB) on the instructions manual. A silent washing machine emits about 40 dB wash mode and between 60 and 65 dB in spin mode. If your hardware is old, install anti-vibration pads under the feet of the unit. Finally, for the tranquility ofyour neighbors, do not operate the washing machine at night.
10. Buy earplugs
It is these small wax earplugs, foam or silicone which makes many services. Do not leave home without them, they reduce noise by 35 dB.
If you incur acoustic improvement work in your home, consider simultaneously the thermal question. Many products isolate you both noise and cold.
If you live in a very noisy environment, close to an artisan workshop in the vicinity of a musician or if you suffer from the noise of engines and turbines, do not hesitate to seek the help of an acoustics . His intervention costs between 800 and 1200 euros.
Finally, if you live near an airport, you can benefit from financial aid for improving the acoustics of your home.